Neptune Burl Carving by Pier Cloutier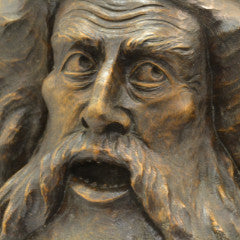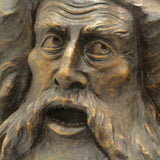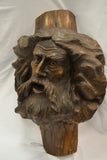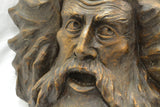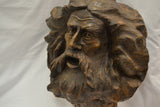 Description
Pier "Clout" Cloutier (1945-1986) 
Pier Cloutier is generally considered the best student of Jean-Julien Bourgault and studied at the atelier/company of Médard and Jean-Julien; two of the Bourgault "Trois Berets" of Saint-Jean - Port Joli  (André had his own studio). 
Pier Cloutier or Clout as he was commonly referred to, began sculpting in wood at a very young age.  Clout established himself as a premier artist in both traditional woodcarving and contemporary life.   He has a number of masterpieces housed in public collections and institutes.  A major work can be found in the church of Saint-Mathieu de Montmagny.  Cloutier's work is featured at the Musée de sculptures sur bois des Anciens Canadiens.  Cloutier's piece "Près de l'étang" (Near the pound) is the emblem of the museum.
Cloutier's career was on the rise during the early 1980s. He was on the cover of Contes et Légendes de l'Isle on a black horse in 1980 and in 1984 received an invitation to the Rendez-vous International Sculpture 84 symposium in Saint-Jean-Port-Joli.   A notable quote in National Geographic Magazine's (1980) article "The St. Lawrence: Canada's Highway to the Sea" states that "Ethereal visitor seems to vanish in Pier Cloutier's 'La Dame Blanche', a wood-carving depiction of a magical lady who helped a poor family in French-Canadian legend.
Unfortunately Cloutier died in 1986 from brain cancer at the age of 41 at the peak of his career. The Fondation Pier-Cloutier was established after his death. 
The Langford Gallery is proud to house Neptune by Pier Cloutier in our collection.  This is a brilliant major work by Cloutier.  Sculpting the very hard wood of a tree burl is challenging and requires great skill.   The sculpting is clearly that of a master sculptor.
Dimensions: 36"/92cm x 25"/64cm x 15"/38.5cm  Weight: 21lbs
Requires special shipping - please contact us for  quote.