Strong, Beautiful Inuk Woman by Mosesie Kolola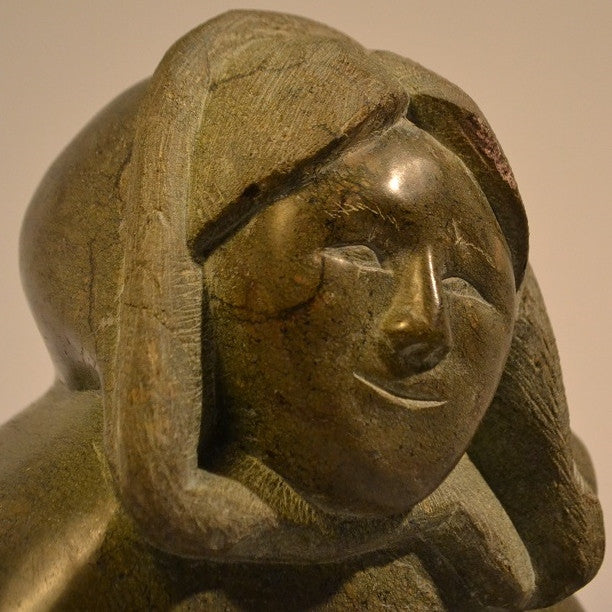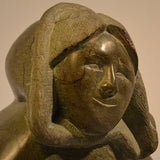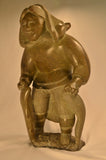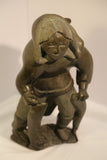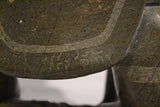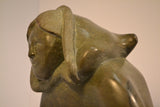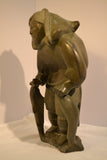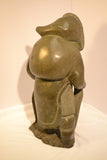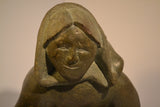 Description
This is one of Mosesie Kolola's finest works. He created works ranging from etched tusks, to multiple component camp scenes, to figural works. This work has little in common with the Inuit Camp Scene sold at Waddington's for $5000 (plus buyer's fee)  in the fall of 2012, except perhaps the importance that they share.
With the confidence of a resourceful provider, this serene faced woman strolls back to her camp with fresh char in hand. This sculpture is a loving rendering of a young, strong and beautiful wife. She has a detailed face.  The parka hood is distinct and abstracted. Suspect child on back- possibly an amautie. Negative space and architecture of sculpture are masterful. 
This is a statement piece in terms of its stature, subject and quality of workmanship.  Using green stone, there are 3 distinct surface types in this sculpture – polished, unpolished and etched stone (detail on parka).   
Artist: Mosesie Kolola, Lake Harbour, Kimmirut  
Official eskimo sticker. Authenticated by Waddington's Auction House, spring 2016.
Dimensions: 16.5"/43cm x 9"/23cm x 6.5"/16cm
Weight: 25.5 lbs