Nude Female on Shrimp Sushi by Jacques Deshaies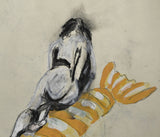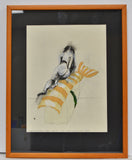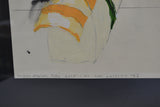 Description
Jacques Deshaies was born in Jolliette, Quebec in 1947.  Early in his career he was a well published photographer. In 1975,  Jean-Paul Riopelle convinced Deshaies to become a painter. Jacques Deshaies' body of work includes many abstracts, conceptual art, geometric constructs, multi-perspective portraits and landscapes, expressionist faces and vanities.   He is a master of many genres and his series are based on expressing philosophical, spiritual and technical aspects of art.  He has a large following online. Up until 2005, Jacques Deshaies painted with colour.  His body of work over the last decade has been monochromatic across a broad range of genres, painting styles and subjects.  Deshaies has exhibited in Paris, Sweden, United States and Canada including a solo exhibition at UNESCO in Paris.  
"Nude Female on Shrimp Sushi" was painted in Paris during 2005 and is the last colour series painted by Jacques Deshaies.  The tail end of his DNA Series centred on the concept of "The Transgenic Feast".  His large transgenic feast paintings on paper were exhibited in Paris but Deshaies later painted black over the paintings during the very early stages of his shift to monochromatric.  This piece is therefore a rare beauty.  High contrast between black and orange.  Acrylic, pencil and charcoal on paper.  Paris, 2005.
Framed dimensions: 17"/43cm x 13.5"/34cm
Image approx. 12"x9"