Ta Tonka Iyotonka (Sitting Bull) by Barry Ace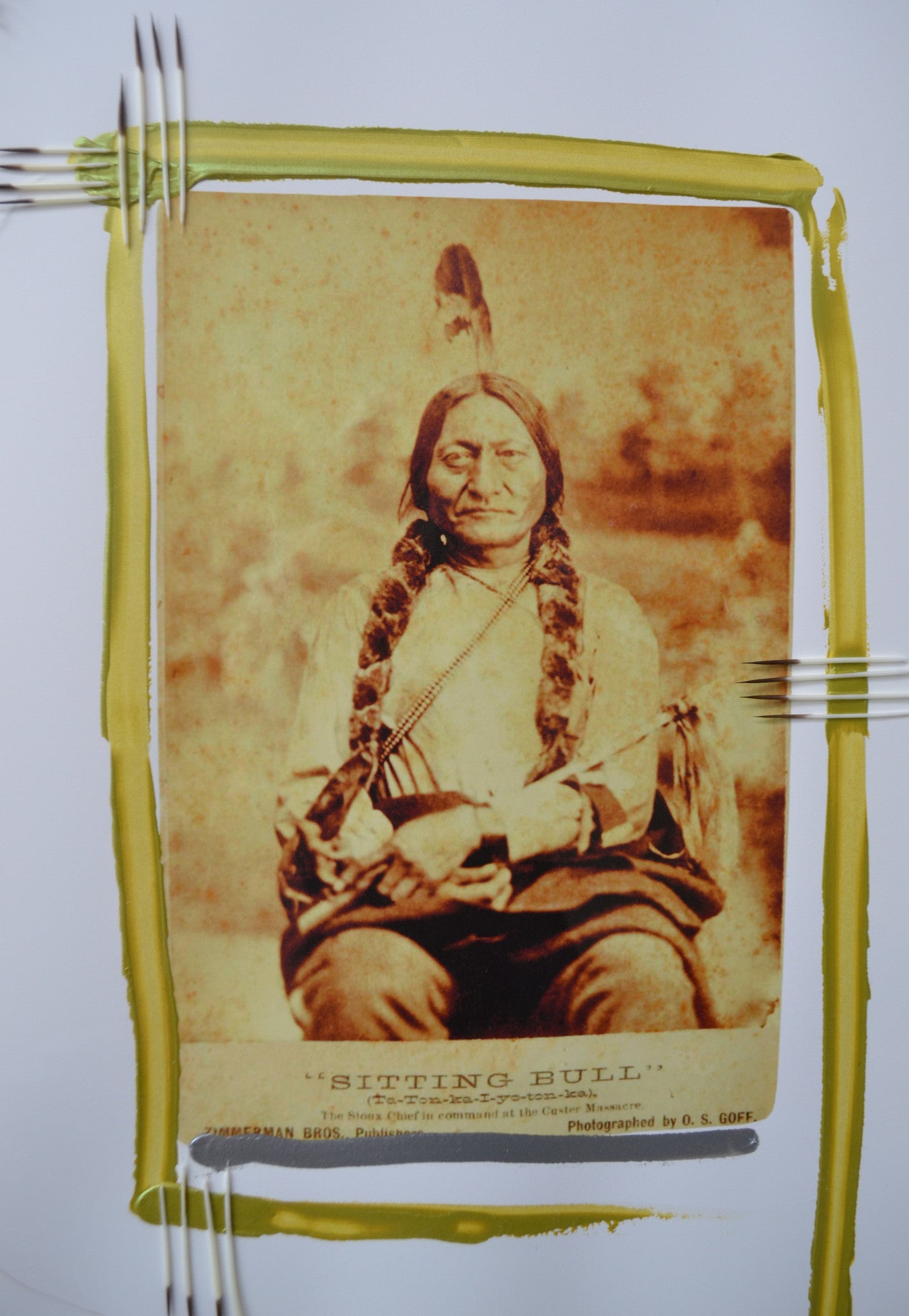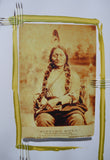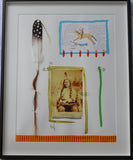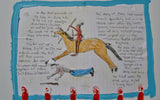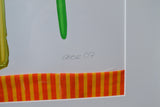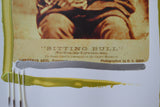 Description
Barry Ace (b.1958)  is an Anishinaabe (Odawa) First Nations artist from Manitoulin Island. He is considered one of the leading contemporary Aboriginal artists in Canada today.  His mixed media paintings and assemblage textile works explore various aspects of cultural continuity and the confluence of the historical and contemporary.  
Mixed media includes quills, feather, hair, acrylic, paper, pencil, historical photography and cloth.The large photo that Ace uses in this piece was originally taken by O.S. Goff in 1881. The subject is Sitting Bull, the Sioux Chief who was in command at Custer's Last Stand (also known as the Battle of Little Bighorn).  Sitting Bull was also a spiritual leader and is said to have had a vision of the battle before it happened.
The text in this piece uniquely tells of an unconfirmed story of Custer's death at the hands of Sitting Bull's nephew, Joseph White Bull, at Little Bighorn.  Custer apparently tried to bite his nose off in combat.
After the war in the US, Sitting Bull moved to Canada hoping for better treatment here. Unfortunately, the Canadian government, fearful that the chief's presence would incite inter-tribal warfare and eager to clear the Prairies for white settlement, refused Sitting Bull's request for a reserve for his people. Using starvation as a tool for subjugation, official government policy directed that Aboriginal peoples of the Prairies could be moved wherever best suited the interests of the government. The Canadian government's approach was compounded by a limited food supply in the area. American hunters and traders had set fires along the border to prevent buffalo from migrating north, effectively cutting off the primary food source for Sitting Bull and his people. The Canadian government stood firm in refusing both a reserve and food, and gradually the hungry Sioux began returning to the United States to accept American promises of rations. Among the last to surrender to the threat of starvation was the old chief, who was finally settled at Standing Rock Reserve in North Dakota in 1881. (Source: http://www.thecanadianencyclopedia.ca/en/article/sitting-bull/). 
Nicely framed under glass.  Some minor scratches on wood frame.
Artist: Barry Ace, 2007, Ottawa
Dimensions: 29.25" x 36.5"
For a full biography of Barry Ace and his recent works visit Kinsmen Robinson Galleries